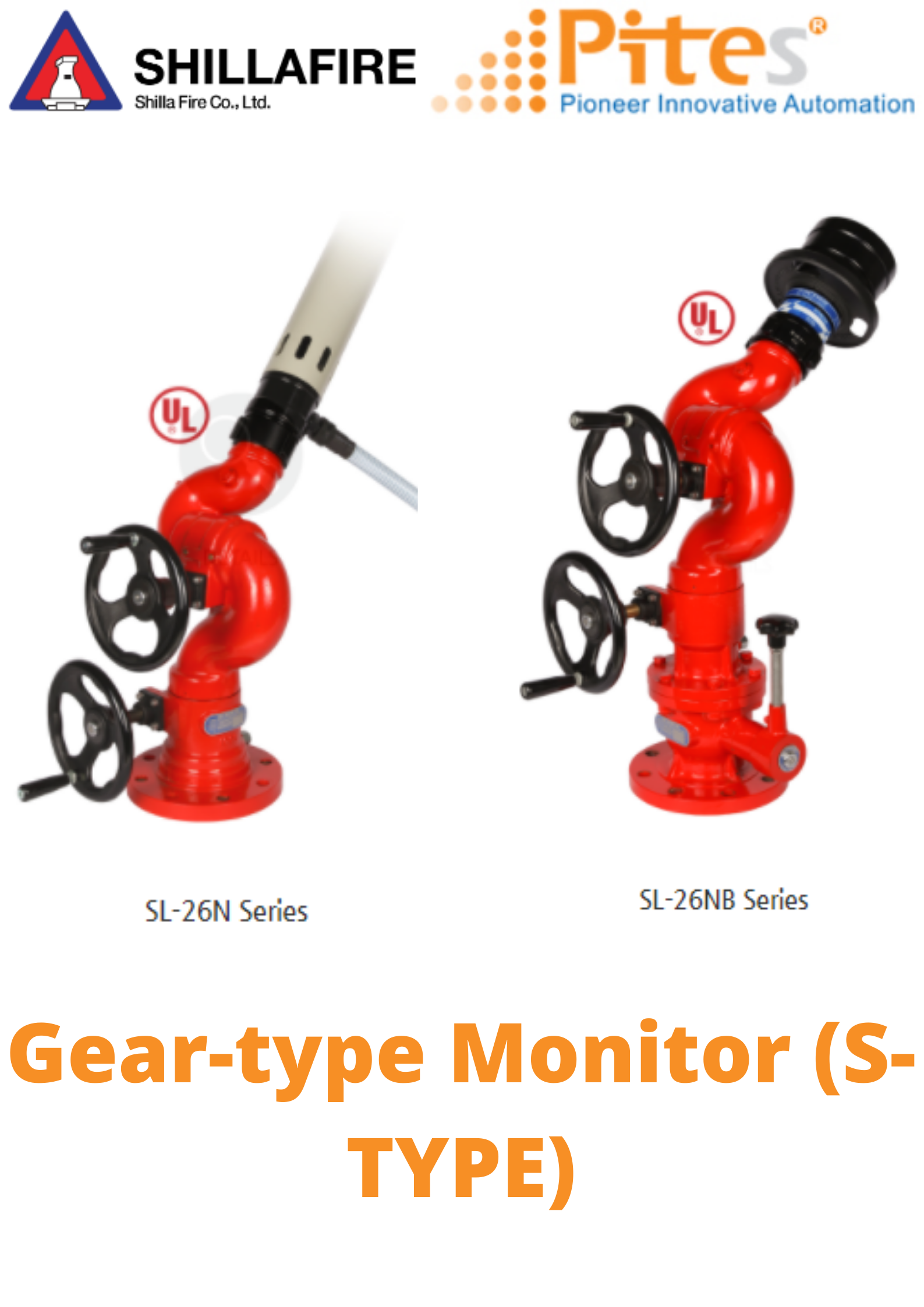 SHILLA FIRE Việt Nam, Đại lý SHILLA FIRE Vietnam, Gear-type Monitor (S-TYPE)
Hãng sản xuất: SHILLA FIRE Vietnam
Liên hệ tư vấn
SHILLA FIRE Việt Nam, Đại lý SHILLA FIRE Vietnam, Gear-type Monitor (S-TYPE), SL-26N-2A, SL-26N-3A, SL-26N-4A, SL-26NB-2, SL-26NB-3, SL-26NB-4
The Gear-type monitor is instsalled in locations that requires long-distance firefighting where it is difficult to access on fire such as in oil refinery plant or hazardous substance storages such as oil-gas, or mounted on the fire truck.
Up-down, left-right control is possible through the embedded gear, so operation is convenient, and separate fixing device is not required.
Water nozzle or foam nozzle is selected and used according to the type of hazardous substances. There are built-in valve type and separate valve type can be selected for use.
Option:
SHILLA FIRE can also supply UL listed products that are applied with high-strength and high corrosion-resistance AL-Bronze material to be appropriate for use in unfavorable conditions with high pressure or with high risk of corrosion from seawater, etc.
Model

Inlet Size

Outlet Size

Remarks

Add to
quote

Valve separated

Valve integrated

SL-26N-2A
SL-26NB-2

ANSI#150 2-1⁄2"

FE65(M)

Operating Range :
Upwards +85 deg.
Downwards – 45 deg.
· Mat'l : AL. or Bronze
· Option : KFI certified
SL-26N-3A
SL-26NB-3

ANSI#150 3"

SL-26N-4A
SL-26NB-4

ANSI#150 4"
Model

Inlet Size

Outlet Size

Remarks

Application
Nozzle
Add to
quote

Valve separated

Valve integrated

SL-26N-2A
SL-26NB-2

ANSI#150 2-1⁄2"

NH65(M)

Operating Range :
Upwards +85 deg.
Downwards – 45 deg.
· Mat'l : AL.-Bronze
SL-15FNA
/ SL-15FN
SL-26N-3A
SL-26NB-3

ANSI#150 3"

SL-26N4A
SL-26NB-4

ANSI#150 4"