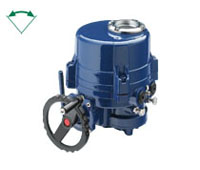 ELECTRIC ACTUATORS - Direct Quarter-turn actuators
Xuất sứ: Spain
Nhà cung cấp: Pitesco
Hãng sản xuất: Centork
Liên hệ tư vấn
Mr Nghĩa
nghia@pitesco.com
0914.237.179
nghia.pitesco
ELECTRIC ACTUATORS

-

Direct Quarter-turn actuators

» 480 Series

With the use of a double worm gearbox, this simple and reliable design guarantees a self-locking and efficient actuation of any rotary valve.

The 480 series actuators can be completed with different Centronik control options and with different combinations of switching and signalling options to cover a wider range of applications.

They cover both On/Off and modulating applications.

Main characteristics:
Torque range from 10 Nm to 1.100 Nm.
Operating tmes from 9 to 120 seconds/90º.
Torque and position setting.
Output flanges and bushes according to ISO 5211.
Handwheel for manual operation.
High degree of weatherproof protection IP67 (IP68 optional). High quality corrosion protection.
Wide range of switching and signalling options.