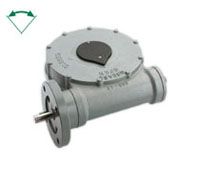 GEARBOXES - Quarter-turn Gearboxes
Xuất sứ: Spain
Nhà cung cấp: Pitesco
Hãng sản xuất: Centork
Liên hệ tư vấn
Mr Nghĩa
nghia@pitesco.com
0914.237.179
nghia.pitesco
GEARBOXES

-

Quarter-turn Gearboxes

The CENTORK quarter-turn gearboxes are designed for the actuation of valves with a rotary movement of less than one turn, like butterfly, ball and plug valves and dampers.

Can be used for:
Electric actuation, by mounting Centork multiturn electric actuator Actuación eléctrica.
The gearboxes are supplied with an actuator input mounting flange according to ISO5210 that allows a direct mounting.
Manual Actuation, directly though handwheel.
Pneumatic or Hydraulic actuation, though the mounting of Centork hydraulic or pneumatic multiturn actuators.
Main characteristics:
Torque range from 280 Nm to 350.000 Nm.
Gear Ratios from 40:1 to 3500:1
Self-Locking movement from 90º to -5º. 180º or multiturn optional.
Output flanges and couplings according to ISO 5211.
Mechanical end stops easily adjusted.
Bronze wheel optional for modulating service.
High degree of weatherproof protection IP67 (IP68 optional).
High quality corrosion protection.