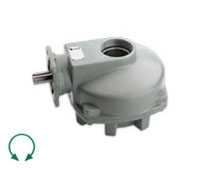 GEARBOXES - Multi-turn Gearboxes
Xuất sứ: Spain
Nhà cung cấp: Pitesco
Hãng sản xuất: Centork
Liên hệ tư vấn
Mr Nghĩa
nghia@pitesco.com
0914.237.179
nghia.pitesco
GEARBOXES

-

Multi-turn Gearboxes

The CENTORK multi-turn gearboxes are designed for actuation of valves with linear movement like the valves of floodgate, globe, tajadera, diaphragm or the floodgates of channel.

Can be used for:
Electric actuation, by mounting Centork multiturn electric actuator Actuación eléctrica.
The gearboxes are supplied with an actuator input mounting flange according to ISO5210 that allows a direct mounting.
Manual Actuation, directly though handwheel.
Pneumatic or Hydraulic actuation, though the mounting of Centork hydraulic or pneumatic multiturn actuators.
Main characteristics:
Torque range from 60 Nm to 16.000 Nm.
Gear Ratios from 1:1 to 24:1
Output flanges and couplings according to ISO 5210.
High degree of weatherproof protection IP67 (IP68 optional).
High quality corrosion protection.