SHILLA FIRE Việt Nam, Đại lý SHILLA FIRE Vietnam, REMOTE CONTROLLED MONITOR
Hãng sản xuất: SHILLA FIRE Vietnam
Liên hệ tư vấn
SHILLA FIRE Việt Nam, Đại lý SHILLA FIRE Vietnam, REMOTE CONTROLLED MONITOR, SL-26NES, SL-26NE, SL-26HE
REMOTE CONTROLLED MONITOR
The product is installed on the fire truck or on the incineration plant for dust removal, or on areas difficult for
human access due to strong heat on fire such as the pier near the ships.
Open/close, rotation and flow pattern can be controlled from long distance to enable safe & efficient firefighting and prevention of spreading fire, and the product can protect people from danger. Additional equipments are all waterproof.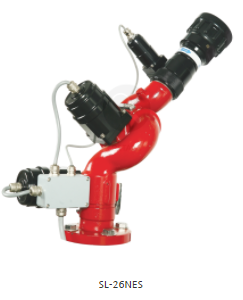 SL-26NES (Small size / Bumper type)
Size : Inlet : 2" / Outlet : BSP2" (M)
Flow Rate : Max. 300GPM @ 7 Barg.
Rotation : Up-Down : +80°~ -40° / Horizontal : Max. 340°
Material : Bronze / Aluminium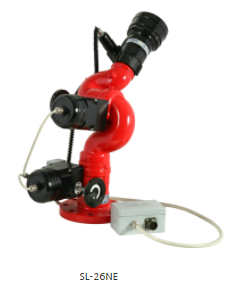 SL-26NE (Medium size / For Fire Truck)
Size : Inlet : 2-1/2", 3", 4" / Outlet : NH 2-1/2" (M)
FlowRate : Max.1000GPM@7Barg.
Rotation : Up-Down: +80°~ -40° / Horizontal : Max 340°
Material : Bronze / Aluminium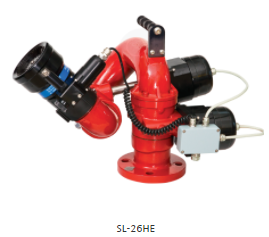 SL-26HE (Medium size / For Fire Truck)
Size : Inlet : 2-1/2", 3", 4" / Outlet : NH 2-1/2" (M)
Flow Rate : Max. 1000GPM @ 7 Barg.
Rotation : Up-Down: +80°~ -40° / Horizontal : Max 340°
Material : Bronze / Aluminium