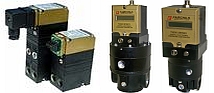 High Accuracy Electro-Pneumatic Transducers
Xuất sứ: USA
Nhà cung cấp: Pitesco
Hãng sản xuất: Rotork Fairchild
Liên hệ tư vấn
Mr Nghĩa
nghia@pitesco.com
0914.237.179
nghia.pitesco
P/I Pressure Transducer Model T8000 Fairchild Vietnam
Features

Field reversible feature.

RFI/EMI Protection.

Outputs of 4-20 mA or 10-50 mA.

Seven input signal ranges.

Explosion-Proof NEMA 4X, IP65, Type 4 Enclosure available.

Input and Output ports on both front and rear.

Various mounting and connection configurations.

Benefits

Provides output which is directly or inversely proportional to the input signal.

Eliminates susceptibility to electromagnetic and radio interference.

Single unit covers all standard loop outputs.

Product handles all standard inputs.

Suitable for outdoor and indoor installations.

Simplified installation and pneumatic piping.

Allows installation flexibility for most applications.
Our T8000 P/I Transducer Series is a miniature two wire pressure device that converts a pneumatic input signal to a linearly proportional output current. It is field reversible and offers output choices of 4-20 mA or 10-50 mA. The T8000 Series is designed for precision applications providing maximum versatility. The modular construction permits any basic unit to be used in the explosion-proof, rack, wall, pipe, panel, DIN rail or 3, 5, 10, or 15 unit manifold configurations. Servicing or calibration is quick and easy. The Zero and Span adjustments are easily accessible from the front of the unit. The T8000 Series may be configured as a Single or Dual Channel Unit. The Dual Channel Unit consists of two PC Boards that are enclosed within the same housing and function independently of each other. This unit may be offered in any one of the seven standard input pressure signals or in any combination.
Explosion Proof Moisture Resistant I/P Pressure Transducers Model TXI7850 Fairchild Vietnam
Features

18 available output ranges

Accuracy as low as 0.15%

Moisture Resistant.

Field selectable outputs in three pressure ranges.

Field reversible feature.

Does not contain copper-based metals.

Optional version approved for use with Natural Gas or Industrial Methane supply media.

Explosion-proof NEMA 4X, IP65, Type 4 enclosure.

Canadian Registration Numbers (CRN) certifications.

FM, CSA and ATEX approvals

Benefits

Tremendous versatility for application design

High precision reliable operation

Well suited for handling moist supply air.

Easily matches final control element requirements.

Provides output directly or inversely proportional to input signal.

Designed for use with natural gas and corrosive media.

Approved for use with Natural Gas or Industrial Methane the supply media.

Allows for outdoor and indoor installations.

May be used in all territories and provinces.

Carries Global approval for Intrinsic Safety and Hazardous Location operation.
Fairchild's TXI7850 operates under the same basic principles as the TXI7800, yet improves upon the design. By encapsulating and otherwise protecting the critical components, Fairchild designed the Explosion proof TXI7850 I/P transducer to be highly resistant to moisture within the supply air lines. Available in both standard and extended range configurations, the TXI7850 delivers vibration, shock and moisture resistance in output pressures up to 0-120 psi [0-8.0 BAR], (0-800 kPa). It carries full Agency Approvals, including FM, CSA and ATEX certifications. I/P Pressure Transducer, I/P Pressure converter.
Model T8000 Faichild Vietnam/ Model TXI7850 Fairchild Vietnam/Model T9000 Faichild Vietnam