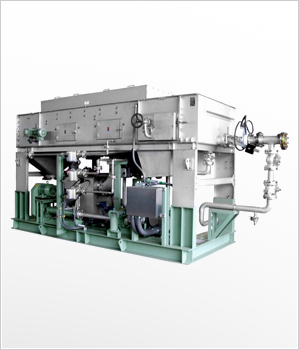 Gravity belt thickener, Máy xử lý nước thải công nghệ Nhật
Xuất sứ: Nhật bản
Nhà cung cấp: Pitesco
Liên hệ tư vấn
Mr Nghĩa
nghia@pitesco.com
0914.237.179
nghia.pitesco
Features
Sludge that is difficult to concentrate can be concentrated to a high level of concentration.

Sludge that does not sediment can be concentrated.

High SS recovery rate

Little installation space

Since only the mixing valve is used to stir sludge and the coagulant, the belt type concentrator requires no coagulation tank and less installation space.

Light installation weight

Low power consumption

The belt type concentrator realizes energy saving because it has no coagulation tank and does not require power for stirring.

Easy to maintain

Low initial cost
Enrichment mechanism of Gravity belt thickener
It supplies grime and high polymer flocculant to a mixing valve separately and forms the cohesion fluke that stirring is to mix it, and is good in a mixing valve.

After having stayed in a cohesion tank, the cohesion grime is supplied on a belt (product made in polyester) running in 8 - 40m/min.

As for the cohesion grime, it is filtered gravity while moving to the concentration grime exit direction with the run of the belt. The filtration is promoted by the plow action of a professional cormorant taken down on a belt.

I scratch it and take the concentration grime which arrived at the outlet after supply on a belt in approximately five seconds in a scraper and am exhausted. The concentration grime density is regulated by changing the angle of inclination of the lamp.

The exhausted concentration grime is transferred to a retention tank in a batch while keeping liquid digit in a level gauge at the predetermined position.

Navigate to the coagulation sludge supply after being washed in the wash water from the washing water jetting 0.6 MPa belt sludge taken scraped, again made filtration and concentration.

Collect discharged wash water with detergents, wash washing water (approximately 10% of sludge quantity) increases the General SS recovery rate by sending it back to the supply tank sludge.