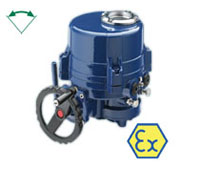 ELECTRIC ACTUATORS - Eex explosion-proof
Xuất sứ: Spain
Nhà cung cấp: Pitesco
Hãng sản xuất: Centork
Liên hệ tư vấn
Mr Nghĩa
nghia@pitesco.com
0914.237.179
nghia.pitesco
ELECTRIC ACTUATORS

-

Eex explosion-proof

In the applications where there is explosion risk, it is necessary to select Electric actuators with Eex ATEX protection.

Based on its ISO 9001 certification and its experience, Centork got a complete range of electric actuators with ATEX certificate.

The ATEX quarter-turn actuators cover both On/Off service, 48A series for small torques and 40A and 40B series + worm gearbox for higher torques; and Modulating service, 41A y 41B series + worm gearbox.

The 48A and 40A/46A Series can be completed with different Centronik control options and different combinations of switching and signalling options to cover a wider range of applications.